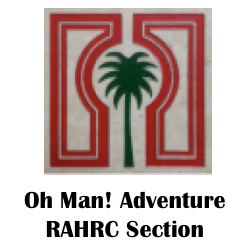 Ras Al Hamra Recreation Centre (RAHRC): Oh Man! Adventure Section
We are a network of male trailing spouses building meaningful relationships, organizing fun and interesting activities, and giving back to the PDO and Muscat community. We value honesty, curiosity, passion, open-mindedness, and adventure!
Summary
This section of the Ras Al Hamra Recreation Centre (RAHRC) has been set up primarily, but not exclusively, for men who do not work (male trailing spouses). The section's activities take place mainly, but not always, during traditional working hours. There is a growing and varied programme of activities that arise from the interests of its members.
Our goal is simple. We want to have fun! It proves difficult to obtain employment and appropriate visas in Oman, but as trailing male spouses, we are very fortunate to live in a country with endless opportunities to explore!
Recent activities include:
  

day trips to explore wadis off road and other places of interest.

  

boat excursions to fish around the local waters.

  

guided tour of the gas and oil exhibition.

  

a snorkeling trip to Bandar Kharan by boat.

  

family BBQs on the beach at RAHRC.

  

a guided tour of the new golf complex.

  

a hike across the hills behind Muttrah
Future events are planned to include:
  

a day trip to the Daymaniyat Islands

  

a photography workshop

  

quad biking on the hills towards the airport

  

further off road adventures

  

more fishing trips

  

family bbq

  

international themed dinners.
In addition, through our qualified member Robert Velberg, we run courses for those who wish to qualify for power boat licenses. We have other members active in  the diving and sailing sections of the club willing to share their experiences and expertise.
More About Us
We communicate in the English language, however if you have less mastery over English, we will support you in any way we can. Please do not let any language issue become a problem… It is not …you can join!
We understand that many trailing men will have responsibilities with respect to children and will be in charge of school runs, sick children, children's parties, etc ,etc. Your participation could therefore be limited by time. We will try to organize schedules and trips to fit all, and in many cases you could bring your children. Please speak up if you require special timing to be able to accommodate the needs of your family.  We will try to adjust!
We certainly do not want to forget our working counterparts.  In general we organize activities on working days between 0800 and 1700 (adjustable to childcare requirements) so not to disturb family time during weekends and evenings; however, we can extend our activities to the weekends to include our families if we all agree. Family BBQ and national dinners are already planned.
It is very important to understand that your expertise, your contributions and your limitations as members form the basis of our group. The more active we are as individuals, the more active (and especially the more fun) we have as group!
As a formal section of the RAHRC we have a limited yearly budget. This budget will be depleted by activities and purchases supported by the group. Some activities may require a contribution. This contribution will be settled through the club administration.
We are self supporting and generate our own activities. We are certainly not professionals but use the knowledge and expertise within the group.  Members are completely free to join or decline any activity. All activities are voluntary, although it would be appreciated if members could join in with incidental community service if so requested (for instance the preparations for a tropical storm). Members could be asked to help out with planning activities especially if you have certain specific qualities. You could take the lead in for instance photography session into the fish market if photography would be your hobby or a day trip into a wadi if you enjoy off road driving. Cooking / BBQ experience is most welcome !
We have connections to other sections of the club and can introduce you and your family to, for instance, the RAHRC Sailing Club, the fishing club, the power boat group, the diving club, and much more … just let us know and we will help you get in contact.
Finally, we have all experienced the uncertainty and stress of new arrival. Of course your focus will be on getting your family settled and not on our excursions, however we are more than willing to help and advise you on any issues if we can. Whether it is cars, insurances, schools, satellite TV, mobile phones, weekend trips, or anything else you can think of.